I have a little story behind today tutorial about How to Check Email Sender IP Address. So before we start the tutorial, let me explain the story first 🙂
I have an uncle, but he's already passed away last year, last month or last two month (I forget the exact time) I receive an email from him. I'm very surprised that time…I just think hmm….maybe in heaven there's an internet connection 😛 hehe just joking, the email content is advertising about enlarging your p*nis and all v*agra stuff. So from this story maybe his email has been used by someone who know his username and password. I already don't have the original email, but I will use my testing email account to show you how to detect the sender IP address.
The email sender IP address is depend with which email provider you use. As we know there is many email provider that provide free email account, but for now we only use Gmail, Yahoo and Windows Live Hotmail. With the logic how to check the email sender ip address I hope you also can do the same with other email provider.
Requirement:
1. Internet connection 🙂
Step by Step how to Check Email Sender IP Address:

1. First step I will try to send an email from Yahoo account to Gmail account.
2. In Gmail you can view the email sender IP address by show the original email in the menu.
3. When you click the link it will show some text page that displaying the details of how the message sent from Yahoo until the email arrive in your inbox. Actually the logic is the same when you sending a packet through ups or fedex, you can track the path of your packet where they made a checkpoint(but not as detail as this two logistics service).
The text "Received: from" will show you the email sender IP address (see the red box).
From this three steps, we know that if the sender use Yahoo, we can know the sender original IP address.
4. Now the next I will try to send email fro Gmail to Yahoo. Here is the screenshot.
5.To check the email sender IP address, you can click the actions and choose view full header.
6. Gmail will use the X-Originating-IP to show the sender IP address, but for the privacy they mask and change the Original email sender IP address with Google ip address.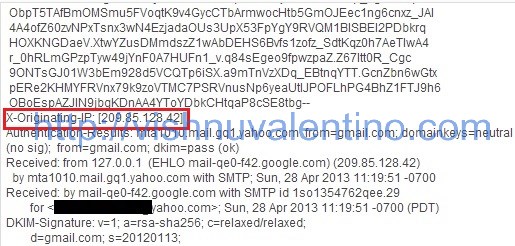 If you see the email sender IP address in the red box above, it was Google IP address.
7. Now the last one is testing using Windows Live Hotmail. I try to send it both to Gmail and yahoo. Here is the result in Gmail.
Last year Windows Live Hotmail still have the X-Originating-IP, but start in January 2013 they said that they started to protect their users by disable the X-Originating-IP and new variable show up there as X-EIP. This X-EIP is always change dynamically even you send the same email from the same ip address, so maybe it's a little hard enough to break it 🙂
8. Update (the real case)
When I just want to finish this tutorial, then suddenly one email come to my inbox, thanks to that guy helped me to finish this tutorial 😛
Rea is one of my friend in Indonesia, I believe she will not sending me this kind of link 🙂
Since the sender was using yahoo account, so it is possible for us to detect the original IP address where they come from.
9. Now after knowing the email sender IP address 79.129.249.124, let's find out more about this IP address by whois-ing here using my tools, or you can visit whatismyipaddress.com to check about that email sender IP address. Here is the result:
Conclusion:

1. From the three free email provider above, we know that the format of email header is depend on which provider we use to send that email.
2. If you send email from Gmail and Windows Live Hotmail they will hide the email sender IP address.
3. If you send email from Yahoo the recipient of your email can know your ip address.
I hope you found this post useful 🙂
(Visited 4,058 times, 1 visits today)
Share this article if you found it was useful: