How to enable telnet on windows 7? By default telnet is not installed in Windows 7, but you can activate the telnet client manually.
According to wikipedia:
Telnet is a network protocol used on the Internet or local area networks to provide a bidirectional interactive text-oriented communication facility using a virtual terminal connection. User data is interspersed in-band with Telnet control information in an 8-bit byte oriented data connection over the Transmission Control Protocol (TCP).

Telnet was developed in 1969 beginning with RFC 15, extended in RFC 854, and standardized as Internet Engineering Task Force (IETF) Internet Standard STD 8, one of the first Internet standards.
I think the main reason telnet client was disabled by default in Windows 7 maybe because of its security issue since telnet protocol was built in 1969 (more than 40 years).
The step by step to Enable Telnet on Windows 7:

1. Open the control panel, or you can go to Run and type control.
2. Click the "Programs and Features".

3. After that the window will shows the program lists, click on the left side "Turn Windows features on or off". You also can go to this step directly by typing appwiz.cpl on Run or type it on search box(start menu).
4. A new window "Windows Features" will pop out. Find and check the "Telnet Client" option.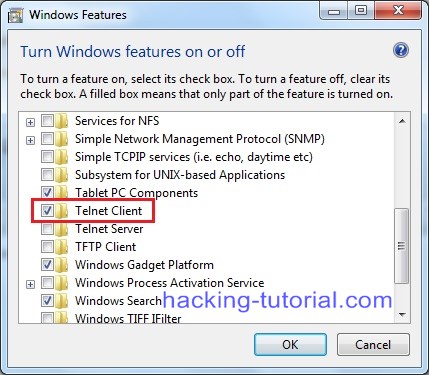 5. To activate telnet client through command prompt:
pkgmgr /iu:"TelnetClient"
6. To deactivate telnet client through command prompt:
pkgmgr /up:"TelnetClient"
If you get an error: operation failed with 0x80070057 The parameter is incorrect, try this one:
start /w pkgmgr /uu:TelnetClient
7. To test whether your telnet client work or not, you can try by following the tutorial how to send email using telnet or how to browse website using telnet.
Hope you found it useful 🙂
Share this article if you found it was useful: